The "NUTS" are here!
Cinnamon and sugar
Glazed Pecans. YUM!
New biscotti flavors now in stock: Cranberry Pistachio & Chocolate Hazelnut and restocked on previous flavors from Gourmet Goddess.
Current Holiday Special: free TAPI with any
750 ml bottle purchase.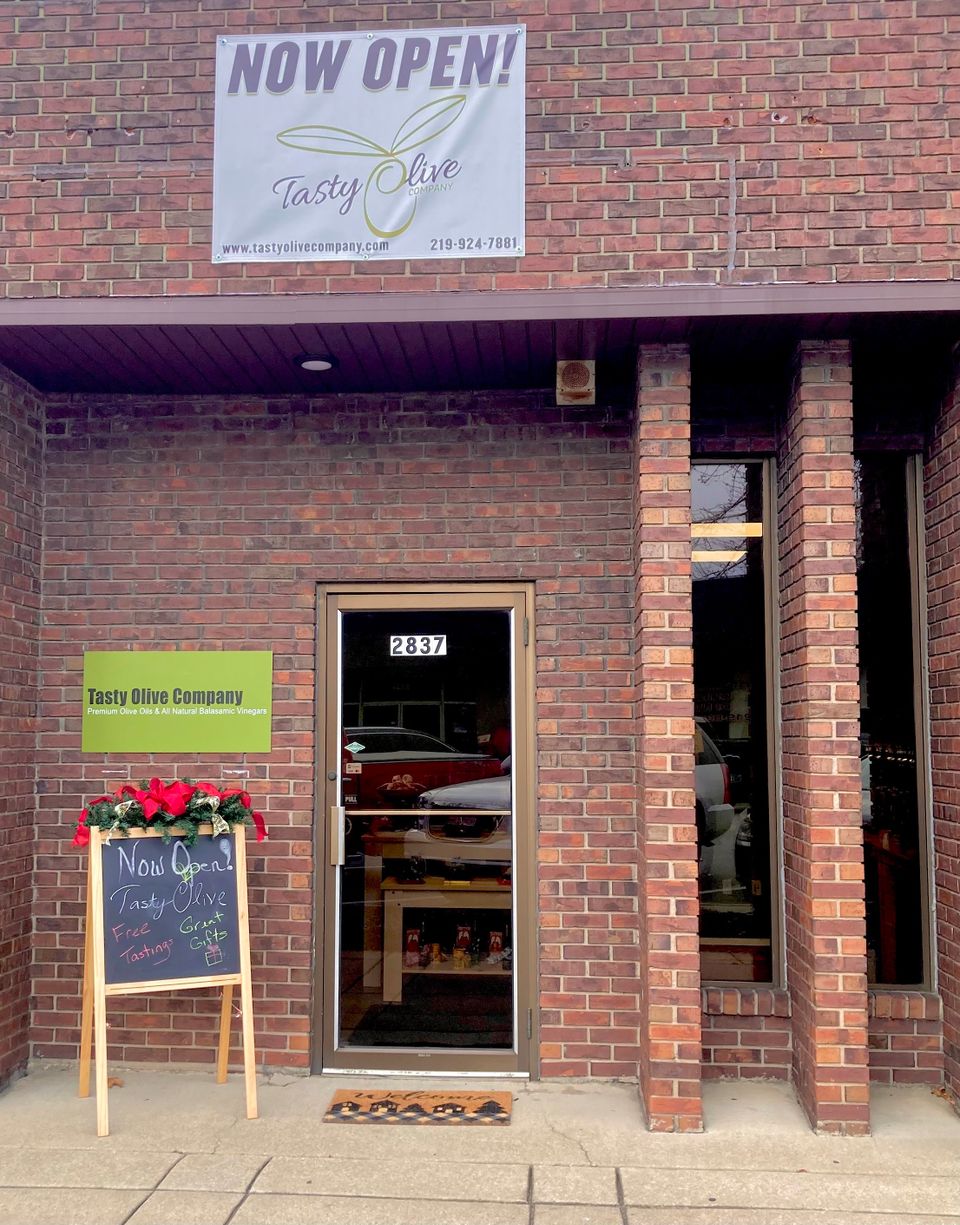 You can now find us at 

2

 locations in NWI.
Visit us at our main store:
2837 Highway Ave. Highland IN store hours:
Tues, Wed, Thurs, Fri 10-5
Sat 10-4
Free tastings at this store!!
America's Antique Mall @ 8311 Indianapolis Blvd., Highland IN
open daily 10-7
Gift Gallery
Check out our new fall flavors!  All our products make great gifts!
Come in to learn about oil and vinegar combinations and taste them for yourself.
Custom gift baskets available.
Tasty Olive Company  2837 Highway Ave. Highland IN 46322  219-924-7881
Visit our store for all your olive oil and balsamic vinegar needs. We have free tastings, lots of gift ideas, and custom gift orders in our festive holiday gift bags. 
Current Product List
( * indicates new product)
Robust: Favalosa*, Nocellara, Manzanillo
Medium: Arbosana, Conbrancosa, Picual-High Oleic Content*
-Olive Wood Smoked*
-Herbs de Provence*
-Ginger & Black Garlic*
-Chipotle*
-Cilantro & Roasted Onion*
-Garlic
-Spicy Calabrian Pesto
-Wild Mushroom and Sage
FUSED~Argrumato
-Greek Leek*
-Greek Oregano
-Baklouti Green Chile Pepper
-Blood Orange
-Lemon
Specialty Oils*
-Roasted Walnut
-Toasted Sesame
Health Benefits of Consuming EVOO
Reduces inflammation, which can reduce the risk of breast cancer

Lowers bad cholesterol and triglycerides

Rich in antioxidants, especially Vitamin E, long thought to minimize cancer risk

A healthy diet rich in olive oil is an effective approach to control diabetes and enhance insulin sensitivity

Helps reduce levels of obesity

A high consumption appears to improve bone mineralization and calcification, helping prevent osteoporosis
Gourmet Balsamic Vinegar




( * indicates new product)
Tangerine*
Black Cherry*
Neapolitan Herb*
Vermont Maple*
Black Mission Fig
Strawberry
Traditional Aged
Vanilla
Wild Blueberry
Dark Chocolate
Espresso
Cinnamon Pear
White
Cara Cara Orange & Vanilla*
Blenheim Apricot
Honey Ginger
Lemongrass Mint
Umeboshi Plum
Gravenstein Apple
Peach
Jalepeno
Oregano
White Balsamic
Cranberry Pear
Grapefruit
Sicilian Lemon
Pomegranite/Quince
Cascadian Wild Raspberry
Specialty Vinegars
Serrano Honey Vinegar*
​​​​​​​Organic Red Wine Vinegar
Health Benefits of consuming Balsamic Vinegar
Contains quercetin and Vitamin C, strengthening your immune system

Replaces high cholesterol dressings improving heart health

Contains antioxidants that destroy free radicals, which will help protect your cells and slow the aging process

3-4 Tablespoons daily will enhance insulin sensitivity, helping prevent or control diabetes

Using as a substitute for high calorie/fat dressing, reducing calorie intake, helps with weight control

Improves the absorption of important minerals, such as magnesium and calcium
About Tasty Olive
Tasty Olive Company only offers the best olive oils from around the world. All of our oils are Extra Virgin Olive Oil from the "first pressing" of fresh olives. It contains no more than 0.8% acidity and is judged to have a superior taste.
 FUSED / AGRUMATO
First, a little history... from the time we began making agrumato olive oil (aka "fused" olive oil) decades ago, we needed a word that best described our mill's process of crushing whole, fresh, organic olives together with perfectly ripe, fresh produce, strictly using cold mechanical extraction. We chose to use the word "fused" because the only other word that existed to describe this unique, artisan process was the Italian term, "agrumato".  At the time, we felt the term "agrumato" was too obscure, so we chose to call our agrumato olive oil "fused".
The process of making agrumato is incredibly difficult, costly, and therefore incredibly rare. It's time consuming, laborious, and requires a near perfect choreography between farmers to bring fresh, ripe, locally sourced produce to the mill the moment the olives are ready to be harvested. We're talking mere hours from harvest to crush for both olives and fresh produce at our mill.
Furthermore, a recipe must be developed dictating how many tons of fresh herbs, fruit, or vegetables should be crushed with a specific ratio of olives. This process of formulation can take many seasons to perfect. We had many failures along the way before we got each agrumato olive oil right.
The process of agrumato is a labor of love which requires a level of craftsmanship and dedication to quality that we hang our hats on. We're known globally for having one of the largest collections of authentic, high quality agrumato olive oil.
We also offer Specialty Balsamic Vinegars